Friends in the heart – membership club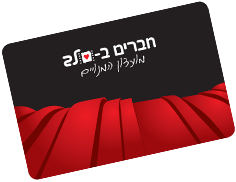 Join the Friends Club in the heart of Israel, the largest music club in Israel, and enjoy special events, premieres and special prices.
A significant discount on the card price
No additional prepaid card reservation
Gifts on birthdays
About new movies
Special screenings for club members
Gifts against Club Accumulation
Appointment rates
Subscription card of  6 tickets – NIS 185 (NIS 31 instead of NIS 42)
Subscription card of 10 cards  – ₪ 275(₪ 27.5 instead of ₪ 42)
Subscription card of 20 Tickets – ₪ 480(₪ 24 instead of ₪ 42)
Special For students / seniors: 7 tickets  for only ₪ 185 (₪ 26.5 instead of ₪ 42) 
Subscription card of a student / retiree – can only be purchased at the box office, with the presentation of an appropriate certificate
You can use up to 2 tickets per visit. With 20 tickets, up to 4 tickets can be used per visit.
Please note – Realizing your subscription to 3D movies – plus NIS 5 per card.
The subscription can only be transferred by the appointment holder directly to the customer service center at: 5155 * ext. 3
If you have any questions or suggestions, please call us at * 5155, fax – 03-6212201, email [email protected] or the cinema funds.